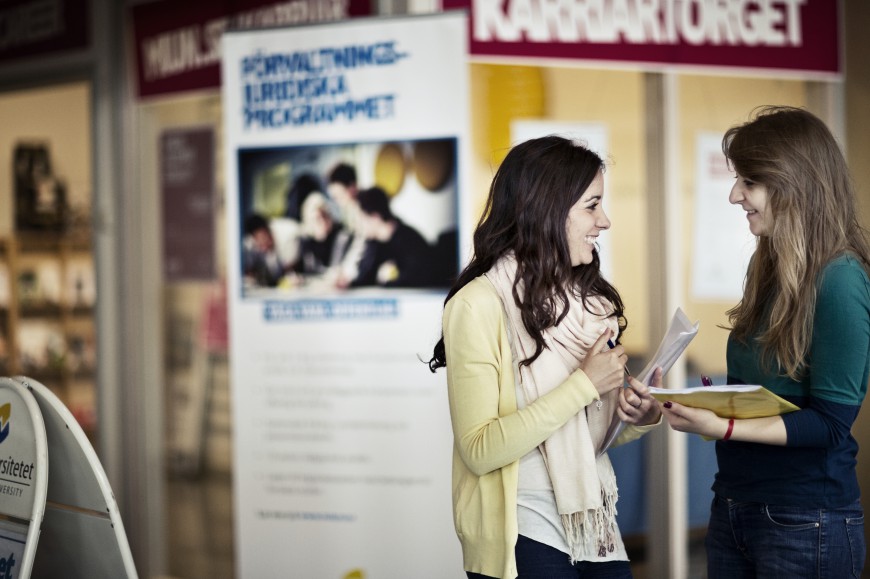 Sweden has one of the world's highest living standards and combined with generous employment conditions, it is not surprising that many internationals aim to have a career here. But how do you make it happen?
Both the University of Gothenburg (GU) and Chalmers offer current students and recent graduates free career services.
"We provide the tools and information to make the road to employment easier," says Kristina Risberg from Chalmers' Careers Service.
Chalmers and GU's career centres organise a host of seminars on topics such as the Swedish labour market, how to write a CV and how to succeed at job interviews. Their websites are full of useful information and you can even drop-in for one-on-one career counselling. Pick their minds and ask your questions, the career counsellors are full of tips and advice and are there to help.
Do I need to learn Swedish? This a common question among international job seekers. Basically, it depends on the job and the field, but without it your options are much more limited.
"Swedish improves your chances, but of course it's possible to get a job anyway. If you plan on staying long-term, then I would say definitely learn Swedish," says Eva-Lotta Olofsson from the Career Center at GU.
Let's assume that you have found a position that you are interested in – via the internet, newspapers or recruitment companies – where should you start?
"Find out as much as you can about the company and don't be afraid to contact them. Think about your skills and knowledge and how they fit in," says Annika Orvarson from Chalmers' Careers Service.
"Think about what you can do for the company and not what they can do for you," says Kristina.
In general try and keep your CV and personal letter to one page each.
"We often hear from companies that all CVs look the same. We are therefore encouraging more individual writing. But it still needs to be logical, understandable and very clear," says Annika.
"In the personal letter, let them know why you are interested in the position and the company. And provide arguments as to why they should hire you. Also, describe your education, the employer may not know your programme," says Eva-Lotta.
If you are unsure if your application should be in English or Swedish, contact the employer. It can also be a great way to start a relationship.
And if you don't speak Swedish: never have someone else write up your application in Swedish.
"It's not a good start if someone else has written your CV," says Annika.
So you have put together a masterpiece of an application and you are through to the interview stage. This is the point where it becomes more about you as a person and how you apply your knowledge. It is not enough to just say that you have a Masters.
"Preparation is the best thing you can do. Both in terms of knowing about the company and the position, as well as practising interview style questions," says Eva-Lotta.
"Be very clear with what you know and what you are good at and don't be afraid of saying it … in a nice way," says Annika.
For some internationals the questions in Swedish job interviews differ from what they are used to. What to expect and how to approach them is something that the careers service can help you with.
"In Sweden we get a lot closer than in other countries. Are you married? Do you have children? These are standard questions," says Annika.
"Expect questions about soft skills, aptitudes and a bit more about the inner you. What motivates you? What are your growth areas?" says Eva-Lotta.
It is important to remember that it's not just about you being interviewed. To an extent you are also interviewing the company. After all you do need to know if the job is right for you.
Be it the type of questions asked in interviews or the presentation of your CV, the recruitment process in Sweden may differ from that in your home country. But with access to your university's careers service, there is no need to be unprepared.
Good luck!